How To Grow Grapes: A Special Offer
"Now You Can Grow Grapes Using
Simple
, Understandable Techniques
That Have Been
PROVEN
To Get RESULTS, And How You Can Put These Secrets To Work For YOU
No Matter Where You Live!
"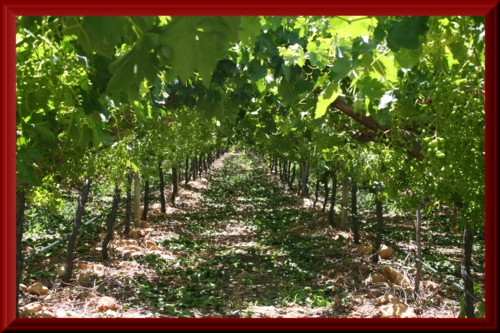 Dear Grape Growing Enthusiast,


Have you ever wondered about the following?
* How do I prepare my soil before planting a grape vine?

* How do I fertilize and irrigate my grape vine?
* How should I train my newly planted grape vine?

* What's the best way to prune my grape vine?
* How should I prepare my grape vine for optimum grape production?

* What's the best way to decide when the grapes are ready for harvest?
* What to do after you have enjoyed the fruit of your labor?
Grapes are grown in South Africa and if you want to meet a real grape growing expert, I'll introduce you to him.
His name is
Danie Wium
. He owns an export grape export farm in South Africa, and has 10 years of grape growing experience.
Recently, Danie decided to release information about how to grow grapes that look like these. The pictures here are actually grapes grown from his own Vine Yard.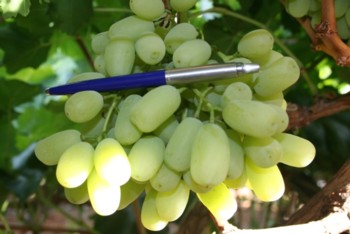 These grape vines produce

42 pounds of grapes

on every single grape vine,

every

year

!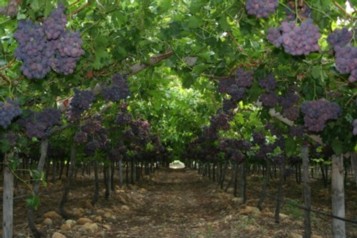 No matter where you are or what you are going to use your grape vine for, the most important thing to remember is:
Your grape vine needs to be a well trained, well pruned and disease free plant.
Danie has decided to show you some of his trade secrets most people won't tell you.
How he

construct

his simple, but very effective

trellis

systems
How he

plants grape vines

,
How he

train a young grape vine

to reach the trellis wire withing a few weeks
How he

remove lateral

shoots

and suckers
How he knows

what grapes to use

and how much to leave on your grape vine
How to

thin out

bunches - by hand and by using gibberlin
How to

water your grape vine

and how often he waters his vines
How to

fertilize your grape vine

and what fertilizer he uses on his grapes
How to keep your grape vine

healthy, with a VERY effective s

pray program

How to know when to

remove leaves

How to

manage the canopy

of your grape vine
How to

secure the shoots

on the trellis wires
How to

increase berry size

How to prevent berry fall

How to

increase the number of bunches

your grape vine produce - fruitfulness
How to make sure you have

enough pruning wood

of good quality for the following season
How to

prune grapes

- cane and spur pruning
How to

protect your grape vine

from the cold

How to

make cuttings

And much, much more ...
You'll agree that its better to learn a skill from someone who has been there and done it. Who better to learn from then a person who owns his own Grape Export Farm.
Also for a very limited time, you'll discover how the very same steps he took to produce grape vines that generate
7 000 + cartons of grapes per hectare EACH AND EVERY YEAR!
That is more that 3
2 000 kilograms
(70 547 pounds) of export quality grapes per hectare each year!
To ensure that you're completely satisfied with the product, Danie will be providing you an 8 week, 100% money back guarantee if you find this product not useful.
Order is made through a secure online server.
Imagine harvesting these grape crops during the next harvest. Don't do things the hard way, do it the grape gardener way!